DSE Race Schedule 
All races begin at 9:00am unless otherwise noted.  The Top Five male, female, and nonbinary finishers in each race win place ribbons.    
DSE Members receive pre-registration links by email at the beginning of each month.  A limited number of non-member pre-registrations are available for select races on Active.com (search for DSE Runners).  Walk-up race day registration may be available, space permitting.  Gold, Child, and Teen memberships include unlimited races.  Standard member race fee is $5.  Non-member race fee is $10.  Please bring exact change. Thank you!
Dec
11
Sun
2022
Baker Beach 5K
Dec 11 @ 9:00 am – 11:00 am
Start Time: 9:00am
Start/Finish: Lower Baker Beach Parking Lot
Terrain: Asphalt, concrete/sand, gravel trail/wooden bridge/gravel trail
Course Description: Upon exiting lower Baker Beach parking lot, immediately turn left on Battery Chamberlin Rd and run up to and through upper parking lot. Exit through gate at far end and run east into short Battery section before completing .6 mile uphill climb. Run left (inside guard rail) along Lincoln Way. Just beyond Langdon Court (Street), take the left fork gravel trail and run the entire "new trail" section with wooden bridge. Do not exit onto asphalt pedestrian/bike lane leading to GG Bridge. Instead, turn around at end of trail and return the same way to finish.
Additional Parking is available in the upper parking lot off Battery Chamberlin Rd.
* Baby Strollers are not permitted for this race.
Course Map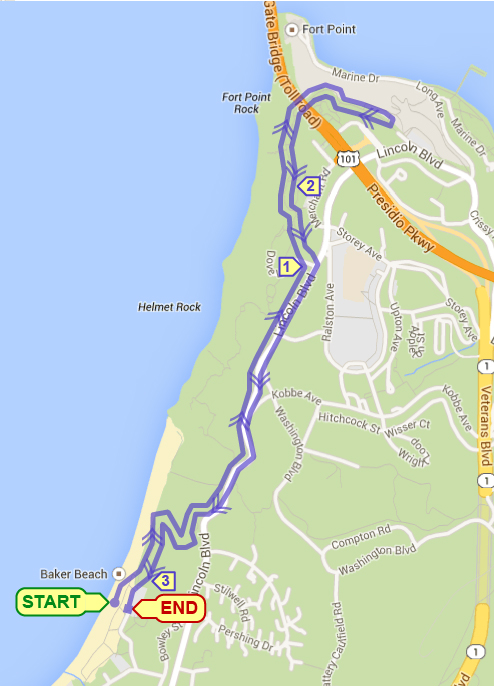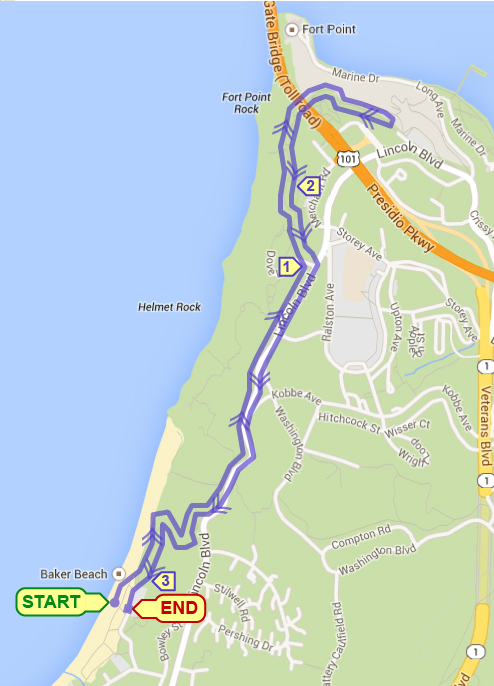 Dec
24
Sat
2022
Rainbow Falls "Festivus" 5K
Dec 24 @ 9:00 am – 11:00 am
Race is on *SATURDAY*, Dec 24
Start Time: 9:00am
Start/Finish: JFK Dr. & Transverse Dr.
Course Description
Run east up Kennedy Drive to McLaren Lodge. Turnaround at Barricade at Kezar Drive, start back and turn right on East Conservatory Drive. Run up and around East Conservatory Drive then back onto Kennedy Drive and return westbound to finish.
Course Map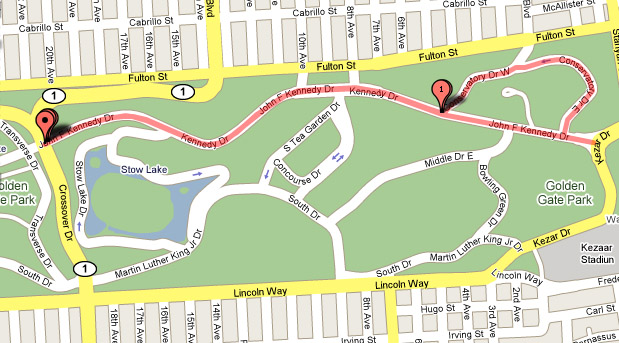 Jan
29
Sun
2023
Rockaway Beach 5K
Jan 29 @ 9:00 am – 11:00 am
Start/Finish:
Rockaway Beach Parking Lot
Dondee St & San Marlo Way
Pacifica, CA 94044
Start time: 9:00am
Course Description
Run southbound on beach promenade, left onto Rockaway Beach Blvd, right onto Nick Gust Way. Continue over footbridge. Veer right and begin paved bike path. Stay on path crossing through the Taco Bell parking lot to rejoin path. Turn around at Pedro Point Shopping Center and return same way to finish.