Sunday Morning DSE Races 
Click here to become a DSE Member:  2021 Membership
Our permits are currently limited to 100 runners maximum.  DSE Members receive pre-registration links by email.  $5 race fee for standard members.  Gold, Child, and Teen memberships include unlimited races.  A small number of non-member pre-registrations for select races are available on Active.com (search for DSE).  Non-member race fee is $10.  Walk-up race day registration is available space permitting.  We highly recommend pre-registration to confirm your space.
Sep
26
Sun
2021
Golden Gate Bridge Vista 10K [Off-Road]
Sep 26 @ 9:00 am – 11:00 am
Course Description
Complete clockwise loop, traverse the upper level of El Camino del Mar parking lot then downhill to Seal Rock/Clement. Turn right onto lower Land's End Trail and continue running east past Eagles Point. Exit left, downhill on El Camino del Mar.  Take lower fork at 30th Avenue staying on El Camino del Mar which merges into Lincoln Blvd. Turn left at Bowley and right into Baker Beach parking lot. Turn right onto Battery Chamberlain Rd., downhill and thru entire lower parking lot. Continue running east thru the battery section of Baker Beach then right uphill on dirt /gravel path to Lincoln. Turnaround at top of  Sand Ladder. Reverse direction and run back to finish.
Course Map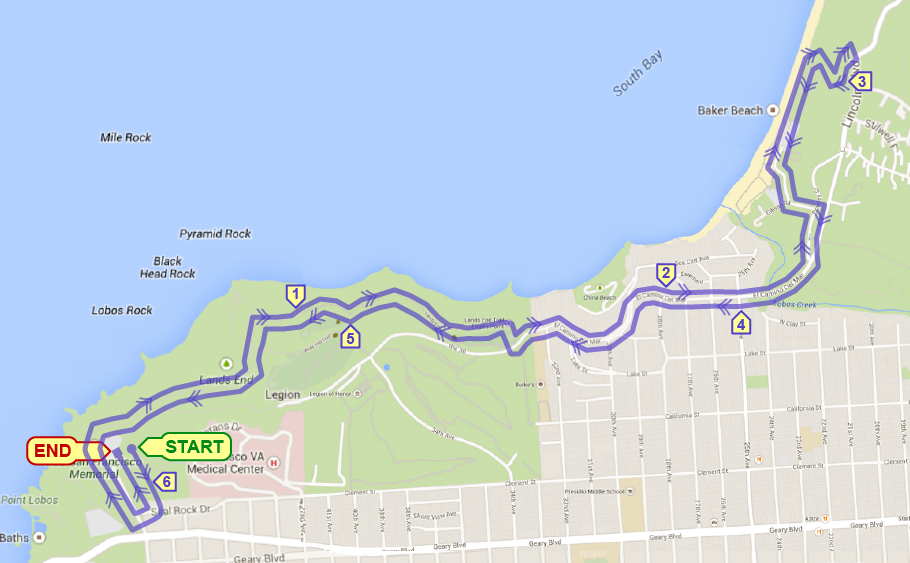 Oct
17
Sun
2021
San Pedro Park 5K [Off-Road] & Member Picnic
Oct 17 @ 9:00 am – 10:30 am
Parking fees inside the park are $6, otherwise there is street parking in the adjacent neighborhoods; please be courteous and mindful of local regulations. Do not park in the church parking lot!
Course Description
Course is a hilly trail run for the first mile with tricky technical rocky trail running and fire trail roads.
Race starts near volleyball court on footpath beside restrooms.
Run North across footbridge, turn left on Weiler Ranch Rd trail.
Run West approx 500ft to cone turnaround.
Run back East bearing left up onto Valley View Trail.
Follow trail up and back down to Weiler Ranch Rd trail.
Turn Sharp left on Weiler Ranch Rd trail.
Run East turning around at "Loop".
Stay on Weiler Ranch Rd trail back towards Picnic Area.
Turn Left to finish back at Picnic area.
More information at San Pedro Valley Park Website.
Course Map