DSE Race Schedule 
All races begin at 9:00am unless otherwise noted.  The Top Five male, female, and nonbinary finishers in each race win place ribbons.    
DSE Members receive pre-registration links by email at the beginning of each month.  A limited number of non-member pre-registrations are available for select races on Active.com (search for DSE Runners).  Walk-up race day registration may be available, space permitting.  Gold, Child, and Teen memberships include unlimited races.  Standard member race fee is $5.  Non-member race fee is $10.  Please bring exact change. Thank you!
Dec
4
Sun
2022
Windmill 10K
Dec 4 @ 9:00 am – 12:00 pm
Start time: 9:00am
Start/Finish:
JFK Drive & Murphy Windmill in Golden Gate Park
Course Description
Run eastbound up Kennedy Drive to intersection prior to McLaren Lodge (Kezar Drive/Second Barricade). Turnaround and return the same way back to finish.
Course Map
Print Map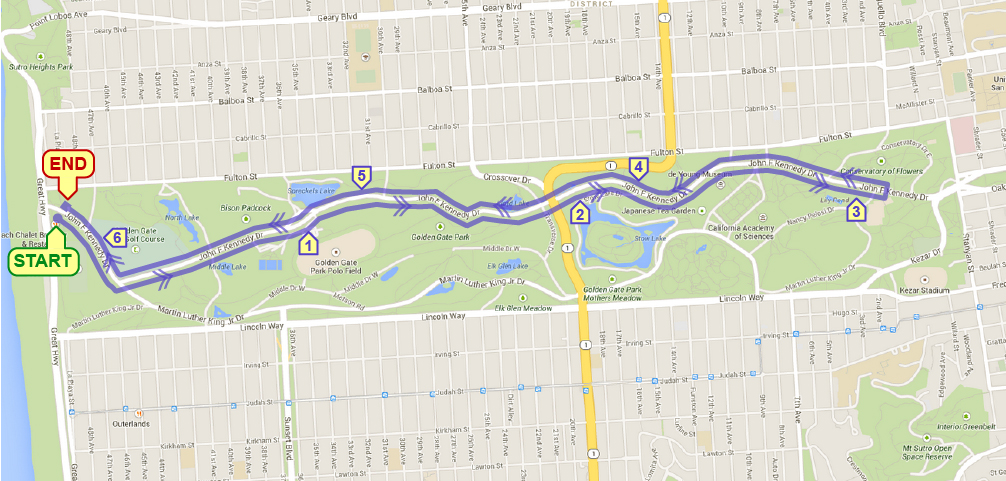 Dec
24
Sat
2022
Rainbow Falls "Festivus" 5K
Dec 24 @ 9:00 am – 11:00 am
Race is on *SATURDAY*, Dec 24
Start Time: 9:00am
Start/Finish: JFK Dr. & Transverse Dr.
Course Description
Run east up Kennedy Drive to McLaren Lodge. Turnaround at Barricade at Kezar Drive, start back and turn right on East Conservatory Drive. Run up and around East Conservatory Drive then back onto Kennedy Drive and return westbound to finish.
Course Map