DSE Race Schedule 
All races begin at 9:00am unless otherwise noted.  The Top Five male, female, and nonbinary finishers in each race win place ribbons.    
DSE Members receive pre-registration links by email at the beginning of each month.  A limited number of non-member pre-registrations are available for select races on Active.com (search for DSE Runners).  Walk-up race day registration may be available, space permitting.  Gold, Child, and Teen memberships include unlimited races.  Standard member race fee is $5.  Non-member race fee is $10.  Please bring exact change. Thank you!
Jan
28
Sun
2024
Rockaway Beach 5K/12K
Jan 28 @ 9:00 am – 11:00 am
Start/Finish:
Rockaway Beach Parking Lot
Dondee St & San Marlo Way
Pacifica, CA 94044
Start time: 9:00am
5K Course Description
Start at the Rockaway Beach parking lot near Dondee Street and San Marlo Way. Run southbound on beach promenade, left onto Rockaway Beach Blvd, right onto Nick Gust Way. Continue over footbridge. Veer right and begin paved bike path. Stay on path crossing through the Taco Bell parking lot to rejoin path. Turn around at Pedro Point Shopping Center and return the same way to finish.
12K Course Description
Follow the 5K course above.  Once you are back at the start/finish area, run north along the paved trail parallel to Cabrillo Highway.  At the Calera Creek Recycling Plant, continue along the sidewalk on Cabrillo Hwy.  Veer left at Mori Point Road. Follow Old Mori Road trail to the water, then turn right.  Continue running along the Beach Boulevard trail until the turnaround near the end of the trail path. Turn around and run back the same way back to the start/finish.
5K Course Map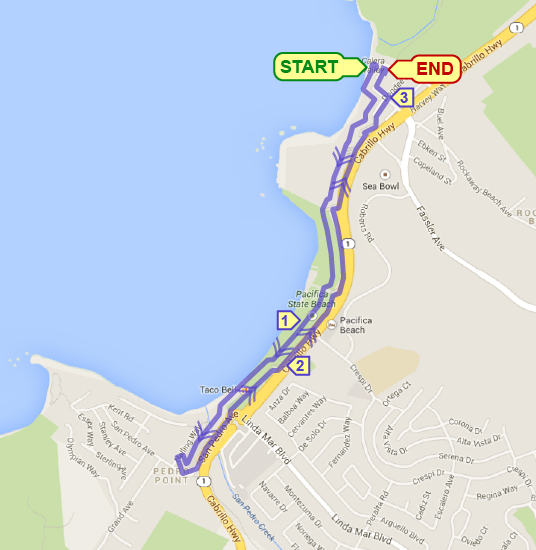 12K Course Map