DSE Race Schedule 
All races begin at 9:00am unless otherwise noted.  

DSE Members enjoy race registration priority, discounted race fees, and are eligible for annual awards.  Click here to become a DSE Member:  2022 Membership
DSE Members receive pre-registration links by email at the beginning of each month.  A limited number of non-member pre-registrations are available for select races on Active.com (search for DSE).  Walk-up race day registration for non-members may be available, space permitting.  Gold, Child, and Teen memberships include unlimited races.  Standard member race fee is $5.  Non-member race fee is $10.  Please bring exact change. Thank you!
Jun
12
Sun
2022
Golden Gate Bridge Vista 10K [Off-Road]
Jun 12 @ 9:00 am – 11:00 am
Race start time: 9:00am
Start/Finish: Upper level of El Camino del Mar parking lot
Course Description
Complete clockwise loop, traverse the upper level of El Camino del Mar parking lot then downhill to Seal Rock/Clement. Turn right onto lower Land's End Trail and continue running east past Eagles Point. Exit left, downhill on El Camino del Mar.  Take lower fork at 30th Avenue staying on El Camino del Mar which merges into Lincoln Blvd. Turn left at Bowley and right into Baker Beach parking lot. Turn right onto Battery Chamberlain Rd., downhill and thru entire lower parking lot. Continue running east thru the battery section of Baker Beach then right uphill on dirt /gravel path to Lincoln. Turnaround at top of  Sand Ladder. Reverse direction and run back to finish.
Course Map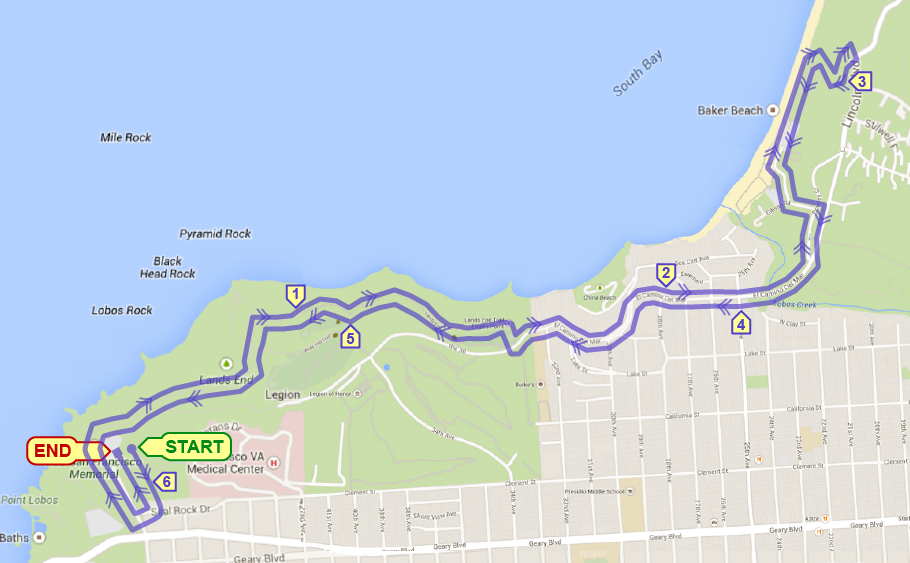 Jun
19
Sun
2022
Father's Day Lindley Meadow XC 5K & Kids Run
Jun 19 @ 9:00 am – 11:00 am
Aug
21
Sun
2022
Kennedy Drive 8K
Aug 21 @ 9:00 am – 11:00 am
Start/Finish: West end of Middle Drive in Golden Gate Park
Race start: 9:00am
Course Description:
Run (uphill) eastbound on Middle Drive, turn onto Overlook Drive (path), left at Transverse and right onto Kennedy Drive. Run eastbound on Kennedy Drive to barricade at Kezar Drive. Turn around at Barricade and return same way to finish.