DSE Race Schedule 
All races begin at 9:00am unless otherwise noted.  The Top Five male, female, and nonbinary finishers in each race win place ribbons.    
DSE Members receive pre-registration links by email at the beginning of each month.  A limited number of non-member pre-registrations are available for select races on Active.com (search for DSE Runners).  Walk-up race day registration may be available, space permitting.  Gold, Child, and Teen memberships include unlimited races.  Standard member race fee is $5.  Non-member race fee is $10.  Please bring exact change. Thank you!
Apr
30
Sun
2023
Stern Grove 4M
Apr 30 @ 9:00 am – 11:00 am
Start time: 9:00am
Start/Finish: Wawona near 33rd Ave
Course Description
Run west on Wawona to 34th Ave, left onto Crestlake Street, left onto Sloat Blvd, left at 19th Ave and left/downhill on Wawona back to start (33rd Ave). Run second loop at 34th Ave & Wawona, drop down through barricade to Stern Grove, run entire west to east length of grove, left uphill and exit Stern Grove. Turn left at 19th Ave, left/downhill on Wawona and back to 33rd Ave and finish.
Course Map: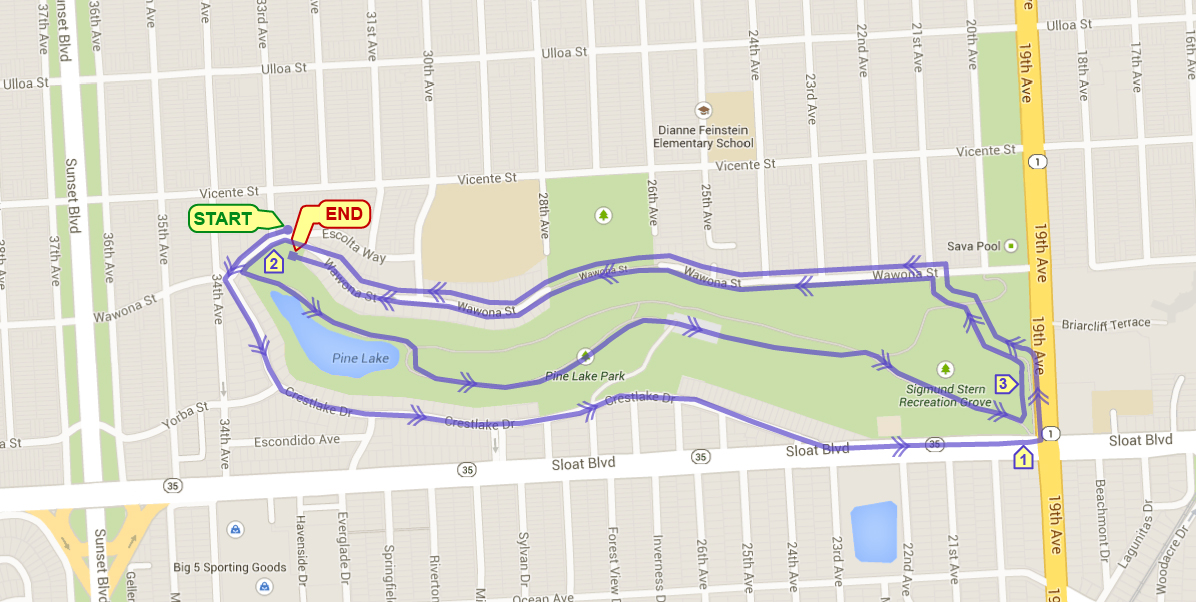 Jul
16
Sun
2023
Twin Peaks 4M
Jul 16 @ 9:00 am – 11:00 am
START/FINISH:
Near reservoir at Galewood Circle & Clarendon Avenue
Race start time: 9:00am
Course Description
Challenging 4 mile loop around Twin Peaks with spectacular views. Complete inside reservoir counter-clockwise loop; exit downhill onto Clarendon, left onto Laguna Honda and run uphill to Woodside Ave. Continue up Woodside Ave past the gas station. Run uphill/downhill on Twin Peaks Blvd then left and run  uphill/downhill on Clarendon and finish inside reservoir.
Course Map