DSE hosts more than 40 races per year!
Please note that our races are always subject to change throughout the year; please confirm race details the week prior on the race webpage or phone hotline at (415) 978-0837.
December 2016
Dec
11
Sun
Start/Finish:
NW dirt area adjacent central "Great Meadows" Fort Mason lawn. S/F lines up with building and fire hydrant.
Course Description:
"Out & Back" – Complete .3 mile clockwise Ft. Mason "Great Meadows" loop, exit (westbound) onto Marina Blvd., right thru Yacht Harbour parking lot, onto Golden Gate Promenade Stay along path into Fort Point National Historic Site. Turnaround at end of parking lot and return same way to finish.
Course Map:
Print Map


Dec
18
Sun
Course Description
Complete clockwise loop, traverse the upper level of El Camino del Mar parking lot then downhill to Seal Rock/Clement. Turn right onto lower Land's End Trail and continue running east past Eagles Point. Exit left, downhill on El Camino del Mar.  Take lower fork at 30th Avenue staying on El Camino del Mar which merges into Lincoln Blvd. Turn left at Bowley and right into Baker Beach parking lot. Turn right onto Battery Chamberlain Rd., downhill and thru entire lower parking lot. Continue running east thru the battery section of Baker Beach then right uphill on dirt /gravel path to Lincoln. Turnaround at top of  Sand Ladder. Reverse direction and run back to finish.
Course Map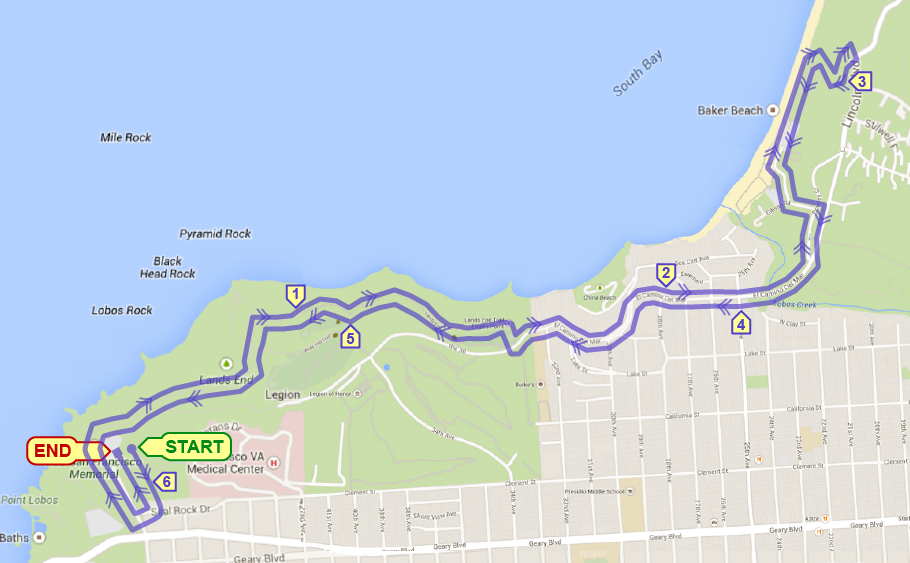 Trackbacks/Pingbacks