Spreckels Lake 5K – MEMBERS ONLY
When:
February 23, 2020 @ 5:00 pm – 6:00 pm
2020-02-23T17:00:00+00:00
2020-02-23T18:00:00+00:00
Where:
JFK Dr & 36th Ave (across from Spreckles Lake)
San Francisco
CA 94121
USA

Registration is at John F. Kennedy Drive & 36th Avenue.
* Please note this is a MEMBERS ONLY race. *
SFRP has required our two Spreckels Lake races to be "members only" (Feb 23 and Sept 6). Non-members who appear at the registration table will not be allowed to run but will be encouraged to sign up as members ($23 for a 5K is still a bargain!) It is critical for the DSE to adhere to SFRP's restrictions in order to maintain a good working relationship with them as we ask for over 25 permits/year from this agency.
In an attempt to encourage more volunteerism, the Board also decided that the Sept 6 Spreckels Lake race will be a "volunteer-only" race, for members who have accrued at least one volunteer point. Please check our website for volunteer opportunities.

Start/Finish Location: Kennedy Drive/36th Avenue near Spreckles Lake
5K Course Description: Run westbound on Kennedy Dr, left onto Chain of Lakes Dr, left onto MLK Jr. Dr, left onto Transverse Dr, left onto Kennedy Dr to finish near Spreckles Lake.
5K Race Course Map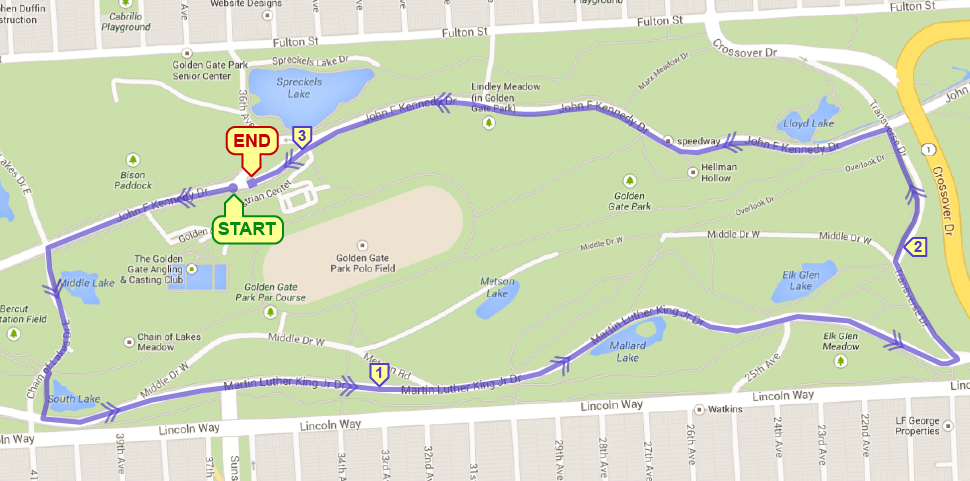 Comments are closed.