Land's End 5K & Kid's Run
When:
July 14, 2019 @ 9:00 am – 10:00 am
Where:
USSSF Monument parking lot
El Camino Del Mar near Seal Rock Dr.
START/FINISH:
USSSF Monument parking lot
COURSE DESCRIPTION:
Run from the USSSF parking lot south towards Point Lobos Ave., make sharp turn before Seal Rock Dr, run on Lands End Trail towards El Camino Del Mar, turnaround before Lincoln Highway and return.
*Kids Run (1/2 mile) begins after completion of the 5K – Start/Finish near same location as adult race.
Course Map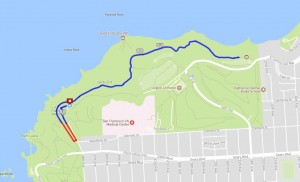 Comments are closed.