DSE Race Schedule 
All races begin at 9:00am unless otherwise noted.  

DSE Members enjoy race registration priority, discounted race fees, and are eligible for annual awards.  Click here to become a DSE Member:  2022 Membership
DSE Members receive pre-registration links by email at the beginning of each month.  A limited number of non-member pre-registrations are available for select races on Active.com (search for DSE).  Walk-up race day registration for non-members may be available, space permitting.  Gold, Child, and Teen memberships include unlimited races.  Standard member race fee is $5.  Non-member race fee is $10.  Please bring exact change. Thank you!
Nov
6
Sun
2022
Presidio Wall 5K [Off-Road]
Nov 6 @ 9:00 am – 11:00 am
Race start time: 9:00am
Start/Finish: Grass lawn adjacent to Presidio Wall Playground (near Pacific and Spruce Avenue). 
Course Description
Start and finish on the grass lawn adjacent to Presidio Wall Playground (near Pacific and Spruce Avenue). Exit grass area, complete counter-clockwise Presidio Wall rectangular loop, right onto W. Pacific Avenue trail. Prior to Arguello Boulevard, complete mini-clockwise half-arc loop before turning left onto northbound (downhill) straightaway and exit trail onto asphalt surface. Turn around at stop sign, reverse direction and return to W. Pacific Avenue. Travel downhill (eastbound), complete clockwise Presidio Wall loop before finishing on the grass.
Course Map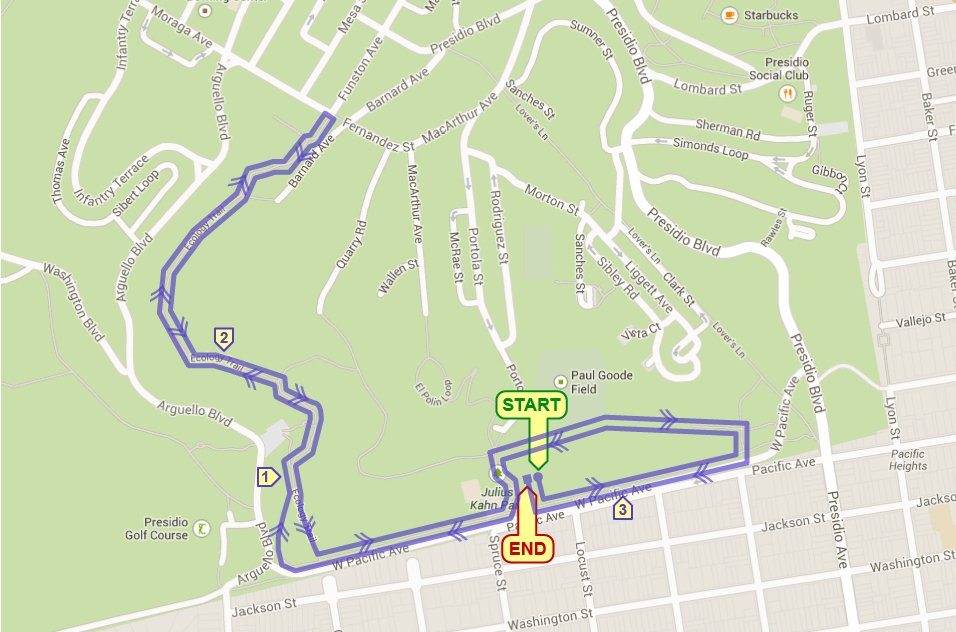 Dec
11
Sun
2022
Baker Beach 5K
Dec 11 @ 9:00 am – 11:00 am
Start Time: 9:00am
Start/Finish: Lower Baker Beach Parking Lot
Terrain: Asphalt, concrete/sand, gravel trail/wooden bridge/gravel trail
Course Description: Upon exiting lower Baker Beach parking lot, immediately turn left on Battery Chamberlin Rd and run up to and through upper parking lot. Exit through gate at far end and run east into short Battery section before completing .6 mile uphill climb. Run left (inside guard rail) along Lincoln Way. Just beyond Langdon Court (Street), take the left fork gravel trail and run the entire "new trail" section with wooden bridge. Do not exit onto asphalt pedestrian/bike lane leading to GG Bridge. Instead, turn around at end of trail and return the same way to finish.
Additional Parking is available in the upper parking lot off Battery Chamberlin Rd.
* Baby Strollers are not permitted for this race.
Course Map