DSE hosts more than 40 races per year!
2019 Race Schedule – tentative
Please note that our races are always subject to change throughout the year; please confirm race details the week prior on the race web-page.
December 2018
Dec
9
Sun
The start and finish are on the grass lawn adjacent to Julius Kahn Playground.
Course Description
Exit grass area, complete counter-clockwise Julius Kahn rectangular loop, right onto W. Pacific Ave. trail. Prior to Arguello Blvd complete mini clockwise half-arc loop before turning left onto northbound (downhill) straightaway and exit trail onto asphalt surface. Turnaround at "Stop" sign, reverse direction and return to W. Pacific Ave. Travel downhill (eastbound), complete clockwise Julius Kahn rectangular loop before finish on grass.
Course Map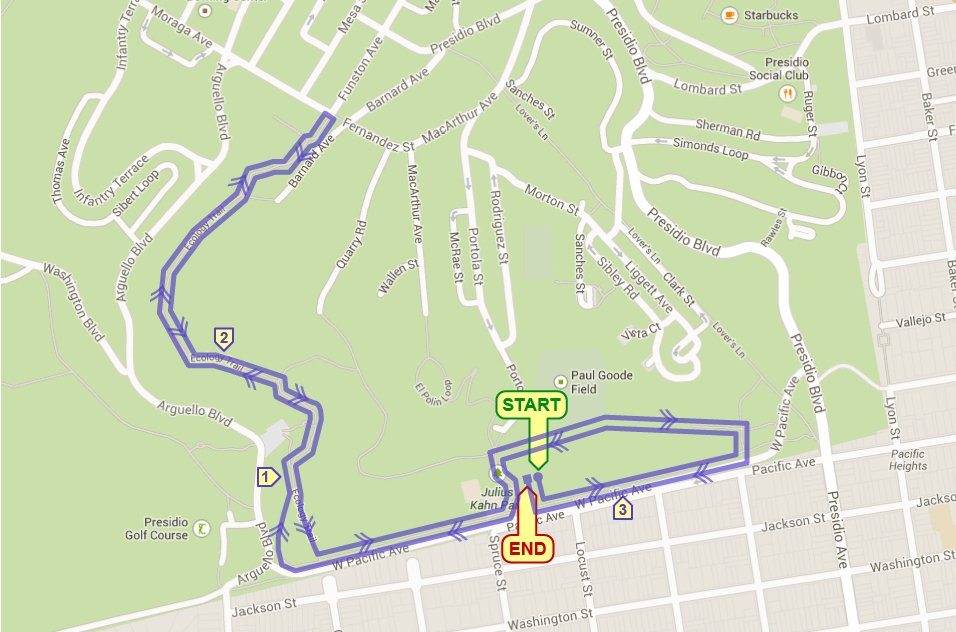 Dec
16
Sun
Course Description
Complete clockwise loop, traverse the upper level of El Camino del Mar parking lot then downhill to Seal Rock/Clement. Turn right onto lower Land's End Trail and continue running east past Eagles Point. Exit left, downhill on El Camino del Mar.  Take lower fork at 30th Avenue staying on El Camino del Mar which merges into Lincoln Blvd. Turn left at Bowley and right into Baker Beach parking lot. Turn right onto Battery Chamberlain Rd., downhill and thru entire lower parking lot. Continue running east thru the battery section of Baker Beach then right uphill on dirt /gravel path to Lincoln. Turnaround at top of  Sand Ladder. Reverse direction and run back to finish.
Course Map