DSE hosts more than 40 races per year!
Please note that our races are always subject to change throughout the year; please confirm race details the week prior on the race web-page.
December 2019 – February 2020
Dec
1
Sun
Course Description
Baker Beach 5K
START/FINISH: Lower Baker Beach Parking Lot
Terrain: Asphalt, concrete/sand, gravel trail/wooden bridge/gravel trail
COURSE DESCRIPTION: Upon exiting lower Baker Beach parking lot, immediately turn left on Battery Chamberlin Rd and run up to and through upper parking lot. Exit through gate at far end and run east into short Battery section before completing .6 mile uphill climb. Run left (inside guard rail) along Lincoln Way. Just beyond Langdon Court (Street), take the left fork gravel trail and run the entire "new trail" section with wooden bridge. Do not exit onto asphalt pedestrian/bike lane leading to GG Bridge. Instead, turn around at end of trail and return the same way to finish.
Additional Parking is available in the upper parking lot off Battery Chamberlin Rd.
Baby Strollers are not permitted for this race.
Course Map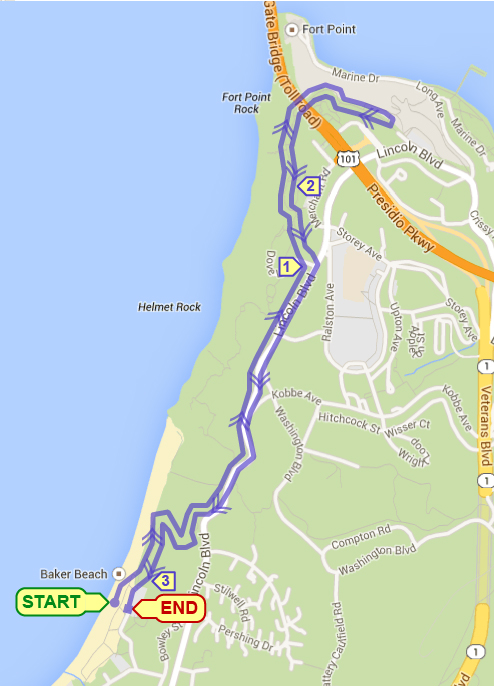 Dec
8
Sun
Start/Finish:
Sierra Point Marina
400 Sierra Point Pkwy, Brisbane
Course Description:
Run southbound on paved Bay Trail, turnaround at Oyster Point and return to finish.
Course Map:
Feb
16
Sun
Start/Finish:
"Great Meadow" Fort Mason Hill lawn.
Course Description:
"Out & Back" – Complete 0.3m Great Meadows clockwise loop, exit onto Marina Blvd., continue right through Yacht Harbor parking lot, run entire Crissy Field promenade trail, turnaround at Hopper's Hands. Return to Finish Line.
Course Map:
Print Map