DSE hosts more than 40 races per year!
Please note that our races are always subject to change throughout the year; please confirm race details the week prior on the race webpage or phone hotline at (415) 978-0837.
May – June 2017
May
28
Sun
Start/Finish
North of main restroom on Bay Trail bike/pedestrian path, south of main Oyster Point Marina parking lot.
Course Description
Run southbound on paved Bay Trail towards Genentech headquarters. Turn around at the 2 mile mark, a short ways past the second bridge and return same way to finish
Course Map
Driving Directions
Take Oyster Point Exit off Hwy 101. Drive east on Oyster Point Blvd to Marina Blvd, turn right on Marina Blvd and continue to the parking attendant booth (no charge for parking). Immediately past the booth, turn left and drive down to the parking lot.
Jun
11
Sun
Course Description
Challenging 4 mile loop around Twin Peaks with spectacular views. Complete inside reservoir counter-clockwise loop; exit downhill onto Clarendon, left onto Laguna Honda and run uphill to Woodside Ave. Continue up Woodside Ave past the gas station. Run uphill/downhill on Twin Peaks Blvd then left and run  uphill/downhill on Clarendon and finish inside reservoir.
Course Map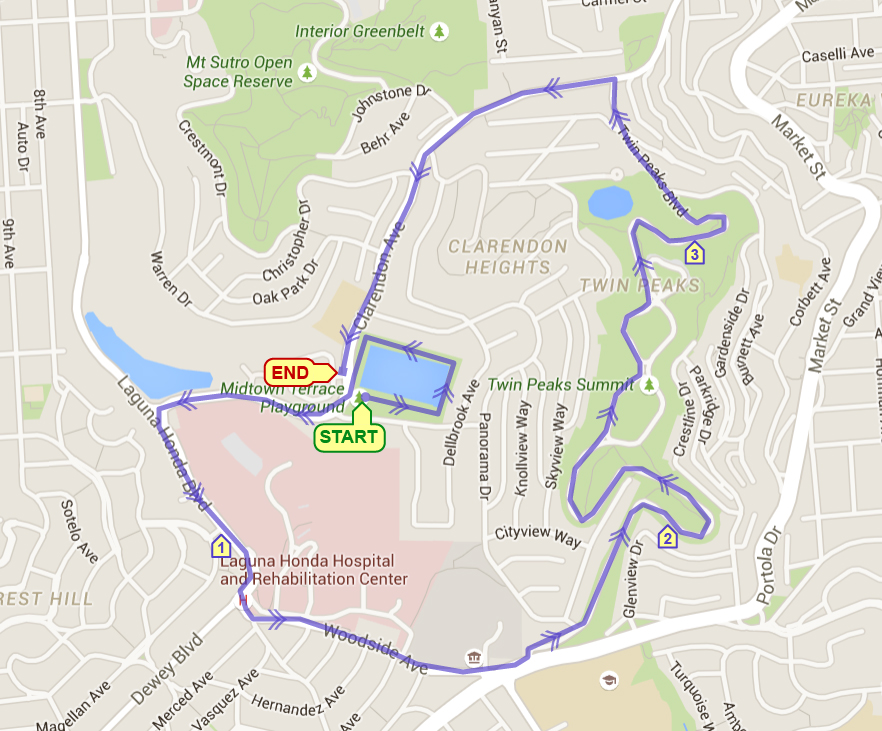 Jun
18
Sun
Course Description
Run east up Kennedy Drive to McLaren Lodge. Turnaround at Barricade at Kezar Drive, start back and turn right on East Conservatory Drive. Run up and around East Conservatory Drive then back onto Kennedy Drive and return westbound to finish.
*Kids Run (1/2 mile) begins at 9:45 AM – Same Start/Finish location as adult race.
Course Map

Trackbacks/Pingbacks