DSE hosts more than 40 races per year!
Please note that our races are always subject to change throughout the year; please confirm race details the week prior on the race web-page.
November – December 2019
Nov
17
Sun
Course Description
The 5K course consists of 2 loops and spans the north east end of Crocker Amazon and south end of McLaren Park. Runners start on the grass in center field and run to the right field foul pole, then turn left along the outfield tree line and continue towards the trail going uphill toward the community garden. Staying to the right of the garden and through the dog walk area, runners turn left at the first paved trail and make a right, uphill, on the paved trail to the dirt trail past "Lover's Rock". Following the dirt trail, runners make the first left towards Sunnydale then make a loop up and around the paved and dirt trails and back towards the dog trail. Just before the dog trail, make a right towards the garden and go back downhill to the softball field and finish.
*Kids Run (1/2 mile) begins after completion of the 5K – Start/Finish near same location as adult race.
Course Map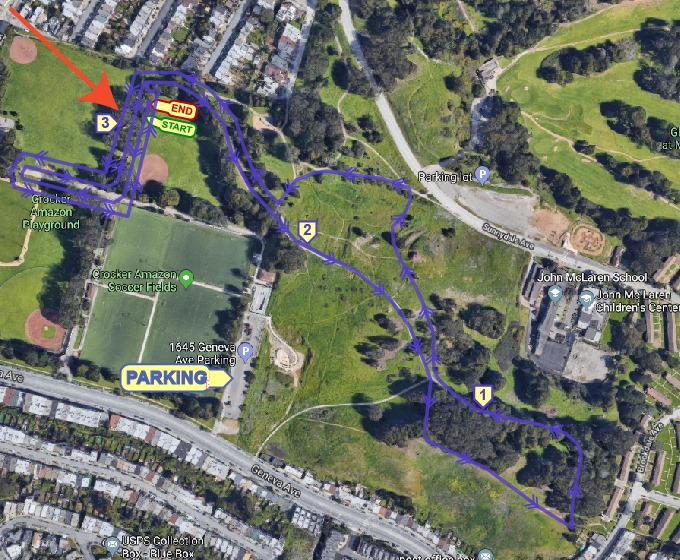 Dec
15
Sun
Start:
Upper dirt track on South side of Polo Field, Golden Gate Park.
Finish:
Lower paved track on South side.
Course Description:
Complete counter-clockwise loop of upper Polo Field dirt track; exit right/west out of Polo Field onto paved path. Run west on path then turn right onto Chain of Lakes Drive via parking lot and run north to Kennedy Drive. Turn right and run east on dirt path up Kennedy Drive. At east end of Upper Speedway Meadow, exit (right) at "Big Tree" and run down/west across the grass meadow back towards the Polo Field. Enter upper dirt track of Polo Field via break in the hedgerow, turn right and run counter-clockwise upper dirt loop to finish.
Course Map: