DSE hosts more than 40 races per year!
Please note that our races are always subject to change throughout the year; please confirm race details the week prior on the race webpage or phone hotline at (415) 978-0837.
October – December 2017
Oct
22
Sun
START/FINISH
Kennedy Drive & Transverse in Golden Gate Park
COURSE DESCRIPTION
Run westbound on Kennedy Drive past two 4-way "Stop" intersections, then left on Bernice Rogers Way, left on ML King Drive, left uphill on Middle Drive and left onto Overlook (path) to finish.
Course Map
Oct
29
Sun
Course Description
Run northbound from sidewawlk onto Great Highway pedestrian path and run eastbound. Turnaround prior to Lincoln Way and return to finish.
Course Map
Oct
31
Tue
Come out and join the newsletter folding session — a small gathering of DSE members who get together for a bit of fun, food, and folding. All DSE members are encouraged to participate. We begin folding at 6:30 PM and usually wrap up before 8:30 PM. Please remember to bring drinks or snacks to share. If you would like to host a folding session, contact Jane Colman at janecol@earthlink.net.
Nov
12
Sun
Two races in one. 1M race starts at 9:00 am, followed by the 5K at approximately 9:30 am.
Register for both races at Kennedy Drive/36th Avenue near Spreckles Lake
5K Course Description & Map
Start/Finish: Run westbound on Kennedy Drive, left onto Chain of Lakes dirt path, left onto ML King Drive pedestrian path, left onto Transverse Drive,   left onto Kennedy Drive to downhill finish.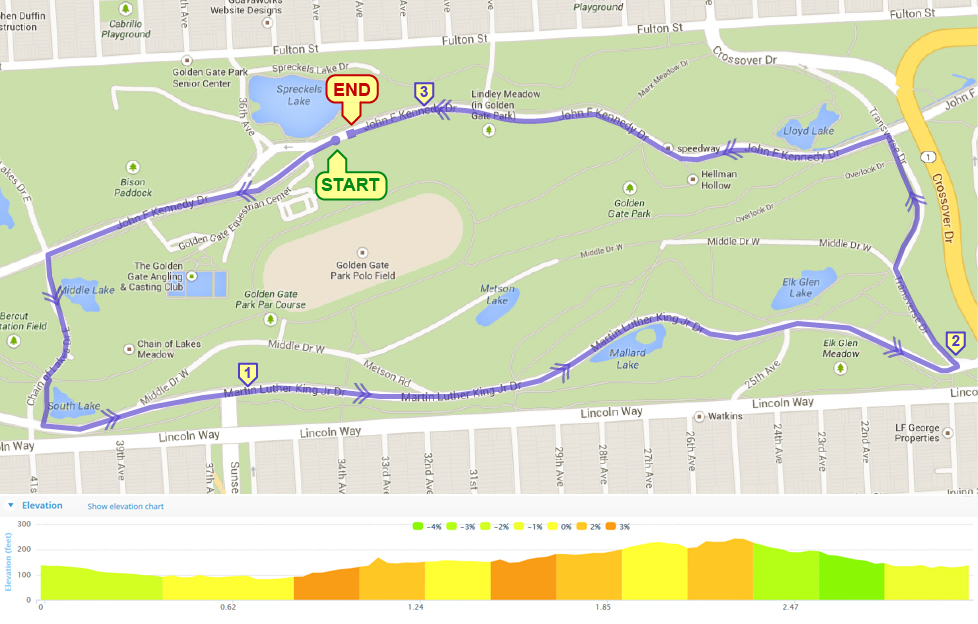 1M Couse Description and Map
Start: Kennedy Drive near Spreckels Lake; Finish: Kennedy Drive near Transverse
Run eastbound (uphill) along Kennedy Drive from Spreckels Lake to Transverse Drive.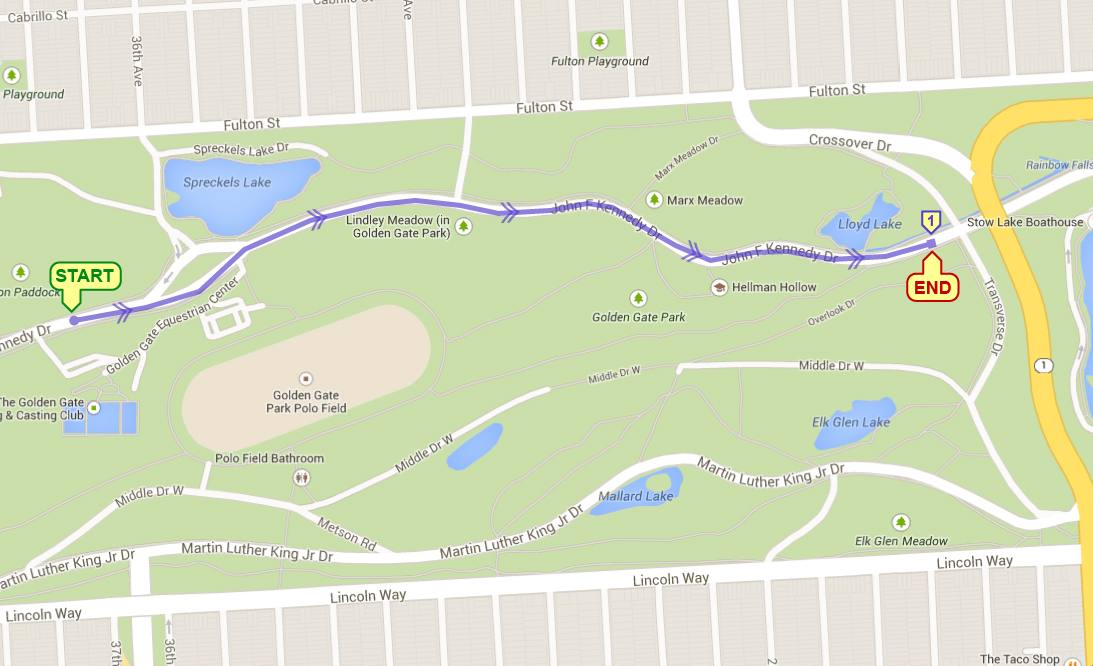 Nov
19
Sun
Course Description
Race starts/finishes at Little Marina Green, Yacht Road parking lot. Run west on Golden Gate Promenade.  Just beyond the Warming Hut, turn left and go up the stairs towards the Golden Gate Bridge.  Continue on trail under the bridge; run the downhill trail inside the guard rail on Lincoln Blvd.  Complete a clockwise Baker Beach trail/sand loop; run past the water treatment plant, then east onto sandy beach to the Sand Ladder, which is 400 yards of a vertical climb.  At the top, turn left and return to the start/finish.
Course Map
Printable Map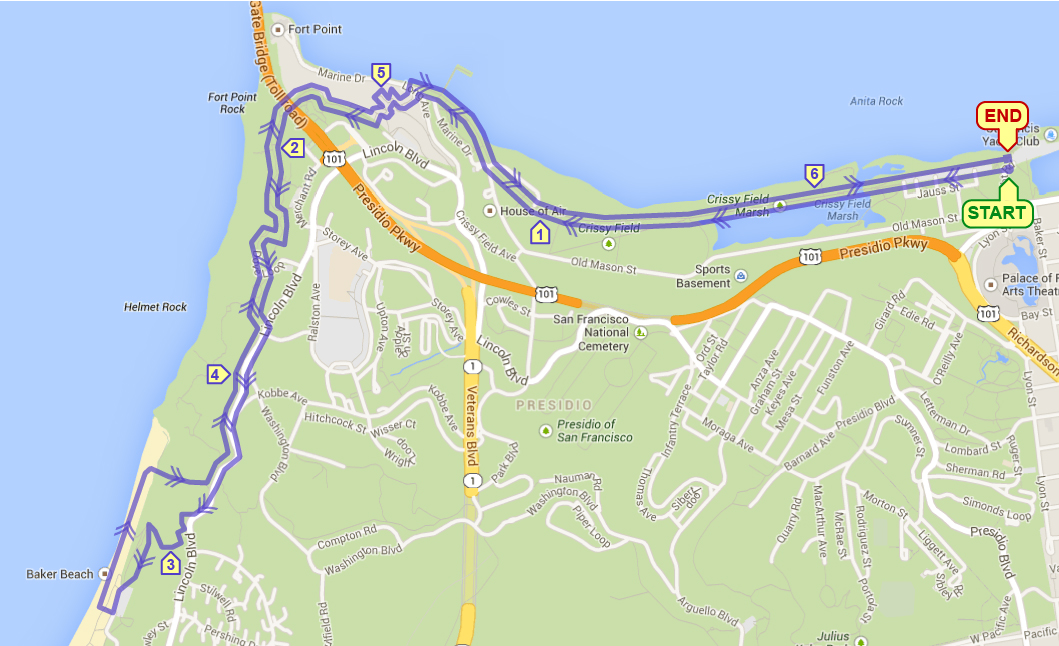 Dec
3
Sun
Out and back course along the paved Bay Trail.
Course Description
Run southbound on paved Bay Trail towards Oyster Point to the turnaround. Return same way to finish.
Course Map
Printable Map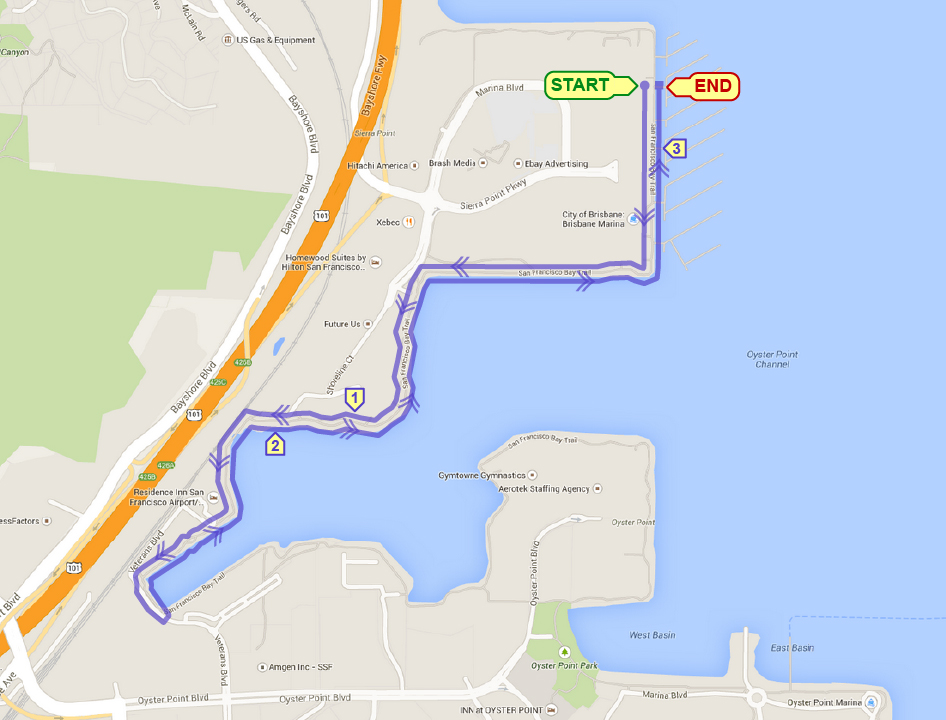 Dec
10
Sun
Course Description
Complete clockwise loop, traverse the upper level of El Camino del Mar parking lot then downhill to Seal Rock/Clement. Turn right onto lower Land's End Trail and continue running east past Eagles Point. Exit left, downhill on El Camino del Mar.  Take lower fork at 30th Avenue staying on El Camino del Mar which merges into Lincoln Blvd. Turn left at Bowley and right into Baker Beach parking lot. Turn right onto Battery Chamberlain Rd., downhill and thru entire lower parking lot. Continue running east thru the battery section of Baker Beach then right uphill on dirt /gravel path to Lincoln. Turnaround at top of  Sand Ladder. Reverse direction and run back to finish.
Course Map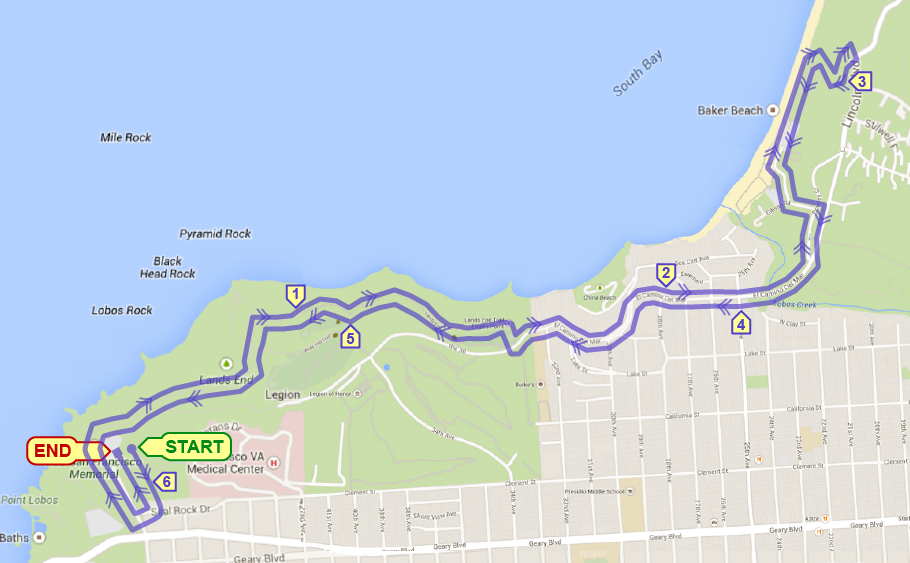 Dec
17
Sun
The start and finish are on the grass lawn adjacent to Julius Kahn Playground.
Course Description
Exit grass area, complete counter-clockwise Julius Kahn rectangular loop, right onto W. Pacific Ave. trail. Prior to Arguello Blvd complete mini clockwise half-arc loop before turning left onto northbound (downhill) straightaway and exit trail onto asphalt surface. Turnaround at "Stop" sign, reverse direction and return to W. Pacific Ave. Travel downhill (eastbound), complete clockwise Julius Kahn rectangular loop before finish on grass.
Course Map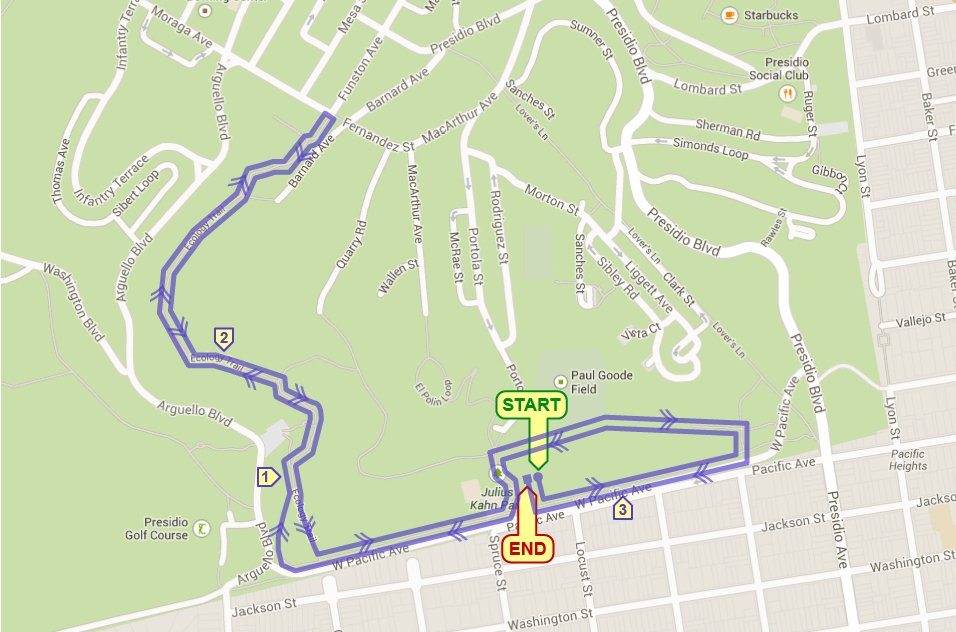 Trackbacks/Pingbacks