When:
November 5, 2017 @ 9:00 am – 10:00 am
Where:
USSSF Monument parking lot

START/FINISH:
Land's End Lookout Wall (sidewalk), adjacent to Land's End lower parking lot
COURSE DESCRIPTION:
Run eastbound (uphill) on Point Lobos sidewalk, prior to El Camino del Mar and take left fork of Lower Land's End Trail path. Stay on entire Land's End Trail. Turn around at Eagles Point (Do not exit Land's End Trail) and return same way to Finish.
Course Map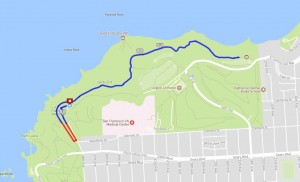 Comments are closed.